Valentine's day is coming up fast! Can you believe January 2021 is over already?! In this blog, I compiled 11 free valentine's day activities for speech therapy. There's a mix here from social language to comprehension, to vocabulary to open-ended play. I also found a couple of cute YouTube videos that you can use during your sessions. Some of these activities are Boomcards. If you don't already have a free account, you can get one here. 
A special thank you to Mau SLP, The Speech Place, SpeechBop, Teacher Camille, Teacher Cha, Very Visual SLP, Speech Friend, Looks Like Language, Practically Speeching, Speech Language Lady, and SmartmouthSLP for creating and giving away these awesome activities! Give them some love by following their stores. 
– Maria
Grades 1st, 2nd, 3rd, 4th, 5th
Valentine's Day Mysteries
This freebie includes two valentine's theme passages that are great for working on comprehension skills. The author has provided a worksheet where students can fill in the problem, solution, clues, and predictions. It can be used in-person or during teletherapy sessions. 
Grades PreK, K, 1st, 2nd, 3rd
Valentine's Day Prepositions
This is a valentine's theme following directions activity. It targets the prepositions "on," "under," and "next to." The student follows a one-step instruction and then answers a question to check for comprehension. It's a Boomcard so it works best if you can give your student mouse control. 
Grades Kindergarten, 1st, 2nd, 3rd, 4th
Valentine's Day Board Game
This freebie is an open-ended Boomcard board game that can be paired with many activities to make things more fun or interactive. You choose a "love bug" and hop from ladybug to ladybug until you get to the finish line. You'll need a dice. Here's the YouTube dice I use in my teletherapy sessions. Just hit play to "roll" and then "pause" to stop. I usually let the student tell me when to stop.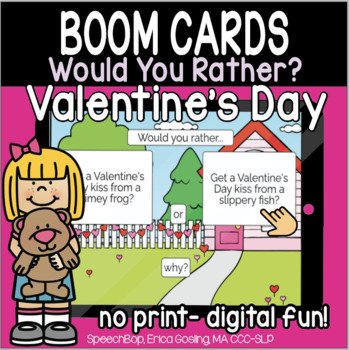 Would You Rather? Valentine's Day Edition
This fun freebie is great to use with upper elementary students and could also be used with middle schoolers. You can use to target answering questions in complete sentences and answering "why" questions by providing explanations. It can also be used just for fun at the end of a session! It is a Boomcard so you'll need internet access. But, you can also print it as a PDF too. You'll find that option in the library section of your Boomcard account. 
Making Inferences: Valentine's Day Edition
Use this cute Boomcard activity to work on making inferences by figuring out what's in the present box. Each card has a set of clues for students to use. The activity includes a total of 10 task cards. You can also use this with students who are working on categories and attributes. See if your student can name an additional item in a category (item under the box) or add another "clue" or "attribute" to each prompt.  
Grades PreK, K, 1st, 2nd, 3rd, 4th, 5th, 6th, 7th, 8th
Valentine's Day Following Directions
This PDF activity can be used during your in-person and teletherapy sessions. To use it during teletherapy, simply use your annotation tools. It's always best if students can have mouse control. There are several 2 and 3 steps directions with embedded concepts. You can target the following concepts: temporal, spatial, sequential, and negation.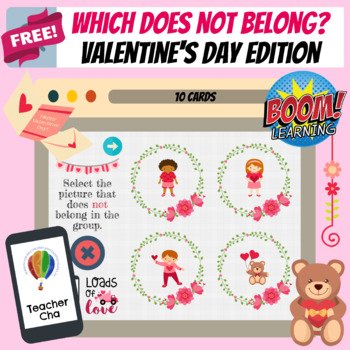 Which Does Not Belong? Valentine's Day
This valentine's theme Boomcard is great for working on category of exclusion or negation. There are 10 task cards with 4 pictures on each card. You can also use this to target answering "why" questions (i.e. Why doesn't it belong). You can also work on formulating sentences by having the student formulate a complete sentence when providing an answer. The following categories are included: people, vehicles, sweets, jewelry, animals, body parts, bread, places, toys and flowers.
Social Skills Activity: Conversation Hearts Game
This is a PDF that can be used in person or via teletherapy. For teletherapy, I would recommend playing the hearts dice game and use digital dice. Simply share your screen with your student and use annotation tools to cross of the hearts that have been completed or to write down responses.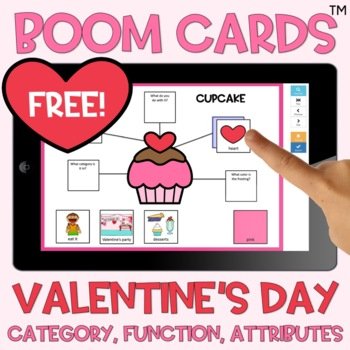 Grades PreK, K, 1st, 2nd, 3rd
Valentine's Day Describing Webs
This freebie is great for working on vocabulary skills. You can work on object category, function, and attributes. The author has provided visuals to help students answer the questions. The activity includes 4 vocabulary words and each vocabulary word has 5 questions with visual response choices.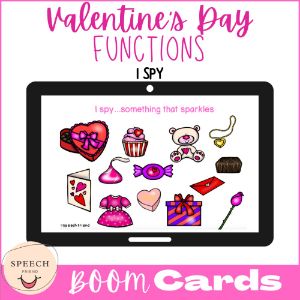 Grades PreK, K, 1st, 2nd, 3rd
Valentine's Day I Spy...(functions)
This free Boomcard is great for targeting valentine's theme vocabulary (label the items on the card), answering questions about object function, and working on /sp/ during articulation therapy. If you're working on adjectives, have your student say "I spy" and use a few adjectives to get you to figure out what the item is. It helps if you come up with a list of adjectives your student will use during the activity before you start. 
Grades 4th, 5th, 6th, 7th, 8th
Valentine's Day Social Skills
This freebie is so good to use with older students. It's a PDF that can be used in person or via teletherapy. The social scenarios and questions are relevant and engaging. It's great for social skills groups as well as language groups working on formulating grammatically correct sentences. The author included templates that can be used to create your own social scenarios or questions. It's also great to have the students come up with their own questions. 
You can use this video to work on listening comprehension or recalling details after listening to information. Just pause the video after each fact and ask your student a question.
This cute video is a good one to show little ones before you ask them about valentine's day. It will prepare them to formulate their own responses when you ask them questions like "What is valentine's?" or "Do you have a valentine?"